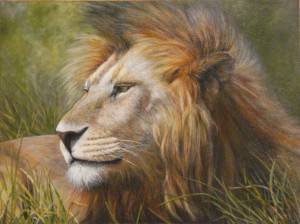 Hi Everyone!
Been awhile since I was on this blogger. Just too many irons in the fire I guess!
Been busy though.
Health issues got in the way, but I am on the mend and hope to be back at full tilt soon.
2013 was a fantastic year really. Lots of good things happened. I was made a fellow of the American Artists Professional league! That was such an honor. I was juried into many shows, that are listed on my website https://www.goldenkstudio.com
The high point for me was that my husband and I went to Kenya and Tanzania for over two weeks! Lots of driving around. Lots of new experiences. Lots of sightings of the treasures of Africa. Made it even more unbelievable that there are those who would destroy the very thing that would make the countries more prosperous!
Below is the most recent painting I did that was inspired by our trip. He was a gorgeous fellow and was huge. I called this painting "Confidence" It is an acrylic that is 12 x 16.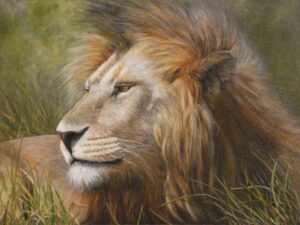 We were fortunate that we saw all of the "Big Five" as they call them. This would include the Cape buffalo, the Elephants, Leopards, Lions, and Rhinos. We were also lucky to see many other animals such as the cheetah, zebra, wildebeest, and crocodiles to name a few! It was a trip of a lifetime! I am so glad that after 30 years I finally managed to convince my husband to come with me there!