I have been busy at the easel since I finished up the farm books.
I have been working mostly in acrylics lately.
I choose subjects that I find interesting and challenging.
Below is the painting "Frosty Morn" a 7×12 inch acrylic painting.
As you can see it is hot off the press so to speak.  These are Bohemian Waxwings, for the birders out there.  They have some red around their faces, this makes them different than the Cedar Waxwings.  Believe it or not, the reference for this painting was taken from my office window.  These guys love Mountain Ash berries and there was a few they had missed from the fall before.  The reference was actually taken in April.  Poor things. As you can tell it was a very cold night for them and everything got covered in frost, including the birds!  I hinted at that fact if you look closely, but was not too obvious about it.  I figured not too many people would realize that, as they sleep birds will get frosted as well as the trees!
The one I am working on now is of Burrowing Owls.  These little guys are so cute!  We see them quite often as we seed and harvest.  they will often run along side the drills or the combine headers!  Not sure if it the sounds that attracts them, or the bugs and critters in the form of mice that is the attraction.  Either way they are fun to watch!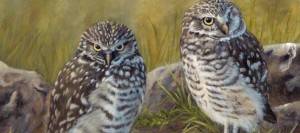 Below is a close up of the one owl I am working on.  They can look quite fierce, though they are not much taller than 6 to 8 inches, and often usurp gopher holes!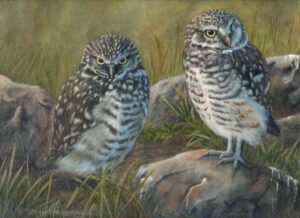 I will post the finished product when it is done.
Till then, Enjoy the warm weather that has finally….come our way!